HR Recruiter Resume Example [A complete resume guide with ready content in 2020]
An HR recruiter is one of the most valuable assets of any company. He/she is usually responsible for managing the entire hiring process of the organization. Therefore, the ideal HR Recruiter Resume should be insightful and well-formatted showcasing a good understanding of human behaviour and psychology.
As an HR Recruiter, you always see resumes of different formats and layouts. You may judge the job seeker based on their resume. Hence, while applying for the HR Recruiter role, you need to make sure that yours is an outstanding one. Your resume should impress the hiring manager by highlighting your best qualities and reasons why you are ideal for the position.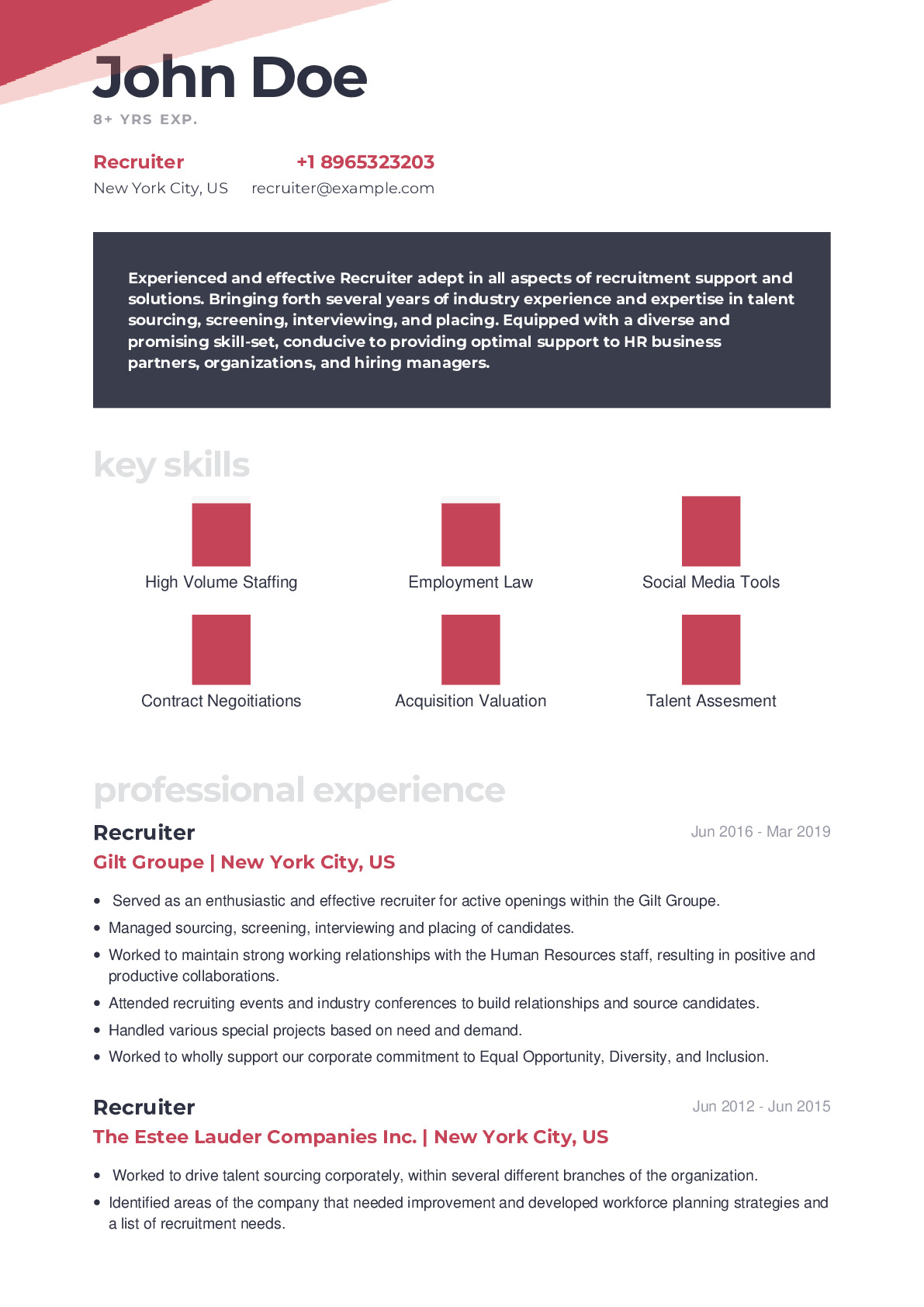 CraftmyCV has set up some guidelines to help you write an exceptional resume.
Refer to the following aspects while writing your resume for HR Recruiter role:
Impress the recruiters with your Career Summary
You may already know the importance of having an impressive opening summary. It is one of the first things that the hiring managers will lay their eyes on. Hence, to impress them write a well-thought summary. Include information about your past job – the challenges you faced as an HR recruiter and the solutions that you had put forth. Use appropriate keywords and write a synopsis, which is between 300 to 350 words.
Summary
Experienced and effective Recruiter adept in all aspects of recruitment support and solutions. Bringing forth several years of industry experience and expertise in talent sourcing, screening, interviewing, and placing. Equipped with a diverse and promising skill-set, conducive to providing optimal support to HR business partners, organizations, and hiring managers.
Showcase your best Skills as an HR Recruiter
HR is a competitive industry and demands you to have specific skills to become the chosen one. An ideal candidate should be a good conversationalist with excellent knowledge of the recruitment tools and much more.
Here are the top six skills which every employer looks for in an ideal HR Recruiter for their organization:
• High Volume Staffing
• Employment Law
• Social Media Tools
• Contract Negotiations
• Acquisition Valuation
• Talent Assessment
Make sure that you modify your skillset as per the targeted job description.
Talk about your Work Experience in your HR Recruiter resume
Work Experience is an essential section that should be included in your resume while applying for any suitable job opening. If you have any past work experience or internships undertaken as an HR Recruiter, mention that in your resume.
Professional Experience
Gilt Groupe
Jun, 2016 – Mar, 2019
Recruiter
Served as an enthusiastic and effective recruiter for active openings within the Gilt Groupe.
Managed sourcing, screening, interviewing and placing of candidates.
Worked to maintain strong working relationships with the Human Resources staff, resulting in positive and productive collaborations.
Attended recruiting events and industry conferences to build relationships and source candidates.
Handled various special projects based on need and demand.
Worked to wholly support our corporate commitment to Equal Opportunity, Diversity, and Inclusion.
The Estee Lauder Companies Inc.
Jun, 2012 – Jun, 2015
Recruiter
Worked to drive talent sourcing corporately, within several different branches of the organization.
Identified areas of the company that needed improvement and developed workforce planning strategies and a list of recruitment needs.
Networked through traditional and progressive methods to source optimal talent.
Maintained a talent database for immediate and future needs.
Develop and foster relationships with newly hired employees to promote employee satisfaction and employee retention rates.
Follow the 5-3-2-1 rule while mentioning your work experience. In short, write not more than five lines about your most recent/current job. More than three lines about your previous job, and so on. Talk more about your achievements and less about your job role in general. Explain the difficulties/problems that you encountered while working and the efforts that you put in to solve those issues.
List your highest level of education first, then work your way backward to high school. If you've earned a bachelor's degree or higher, do not include your high school information.
Highlight your achievements in your resume for HR Recruiter
In most of the organizations, an HR Recruiter is awarded based on their target achievement. So, if you happen to receive any awards or recognition for your work as an HR Recruiter, do highlight it. This gives you an edge over other applicants with no achievements.
Achievements
Mar, 2015
Utilized numerous sourcing technique
Developed recruiting process and function, and coached/trained hiring managers regarding interviewing best practices which validated the hire, reduced cost-to-hire, and time-to-fill, and reduced turnover.
Developed and maintained the sourcing database for more than 40 disciplines and cold-called to determine technical expertise and sell them to URS.
Successfully managed a requisition load of 100-150 positions.
Jan, 2018
Responsible for recruitment of Critical Care
Performed sourcing, pre-screening, interviewing and referring qualified candidates to all levels of Human Resources, Management, and Senior Leadership.
Consulted with hiring managers to understand their needs, developed nursing recruitment strategies and recruited top nurses.
Tell your recruiter about your Educational Qualifications
While hiring an HR Recruiter, educational qualification is usually considered as a critical parameter. For most companies, the minimum qualification for an HR Recruiter is a Bachelor's Degree in Human Resource Management or Organisational Psychology or other relevant fields.
Education
Manhattan College, New York City, US
Bachelor of Human Resource Management
Sep, 2007 – Sep, 2007
Marymount High School, New York Mills, US
High School Diploma
Sep, 2005 – Sep, 2005
In your resume, mention your educational qualifications in the descending order. Start with your highest qualification, followed by your previous qualifications. Candidates who are graduates or above can avoid mentioning their 10+2 and high school qualifications.
Mention your Vision as an HR recruiter
Most of the job seekers fail to mention their vision for their career for the upcoming years. However, indicating it will place you higher on the hiring funnel. It will help in distinguishing yourself from the rest of the crowd. You can write about what you wish to achieve from this position. Show how you plan to contribute to the organization's growth and profitability as an HR Recruiter.
Are you confused about how to highlight your vision? Stop worrying; we have got you covered. CraftmyCV's smart resume builder has a feature for adding a section called "In 3 Years". In this section, you can write down your vision and highlight it for the recruiters. Currently, CraftmyCV is the only resume builder in the industry that gives this option to the users.
Here is a fantastic example of the "In 3 Years" career path for the HR Recruiter's resume:
In 3 years
Head recruiting for one of the leading companies in the state of North Carolina and to devote my skills to a company that will appreciate and recognize my expertise.
How can CraftmyCV help you?
CraftmyCV has analyzed tens of thousands of resumes across different verticals, departments, hierarchies, and job roles. We have created our smart resume builder with our resume experts' help, which helps you create a fantastic resume in a couple of clicks.
USPs of CraftmyCV:
Mobile Resume Templates for HR Recruiter
You get access to a lot of resume layouts for creating your resume using our smart resume builder. All our resumes come along with a Mobile Resume format, allowing you to easily view your resume on all portable screens.
Refer to some of the best examples of our mobile resume layouts for HR recruiter on our website.
Learn more about Mobile friendly resumes here.
ATS Optimized Resume Formats for HR Recruiter
With almost all the recruiters using ATS to shortlist the candidates for job vacancies, your resume must pass through the ATS. So, CraftmyCV offers you an ATS friendly word document of every resume that you export in PDF format.
Below is an example of a resume that is designed to be read by ATS software: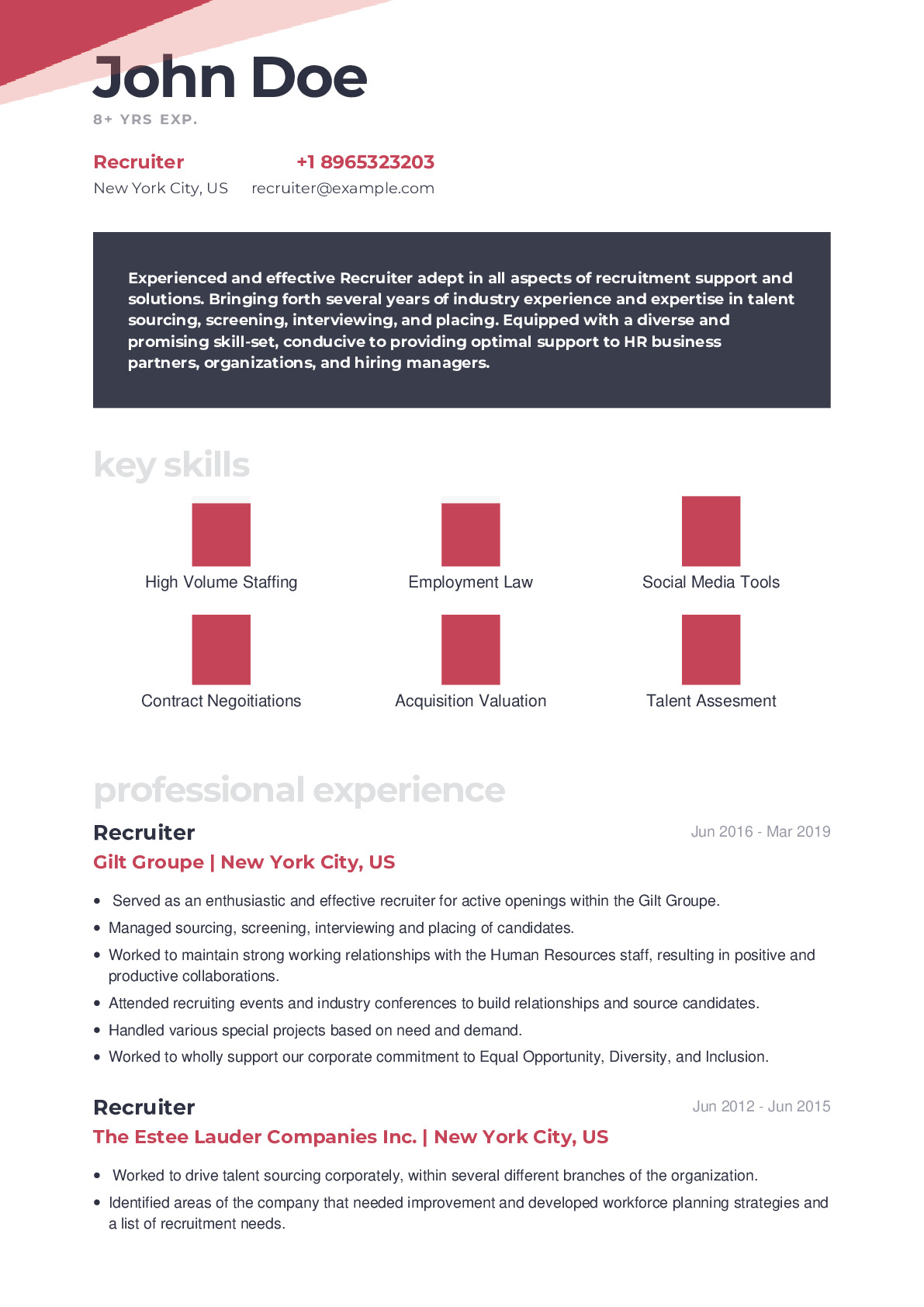 Easy to use, ready-made Content for HR Recruiter Resume
Our experts have created thousands of content pieces, which can be used for creating a fantastic resume for HR Recruiters. If you are a premium user of CraftmyCV, you get access to multiple ready-made Content Suggestions, which you can add to your resume with just one click.
Start using our smart resume builder and create the best resume to land in your dream job. Click here to create your resume now!
Please share this article on your social media if you want your friends and colleagues to benefit from it.
Happy Job Hunting!
Get Noticed. Get Hired.
Craft your own Recruiter resume.
CraftmyCV.com is a quick and easy resume builder for creating stunning resumes in minutes to get you noticed.
1 Resume Template
1 Mobile Resume Template
3 PDF Exports
ATS-Ready Word Document
SEO-Friendly Online Profile