HR Manager Resume Example [A complete guide to resume making in 2020]
Human Resources is one of the most critical avenues in any organization. The HR Manager is responsible for all the human resources related activities across the organization.
The HR Manager is responsible for developing and implementing HR strategies for the organization. Managing the recruitment and selection process, overseeing a performance appraisal system, etc., also comes under the HR Manager. This is a highly competitive position in any organization. Therefore, if you apply as an HR Manager, it is important to have a great resume highlighting all your relevant skills and making you stand out from the crowd.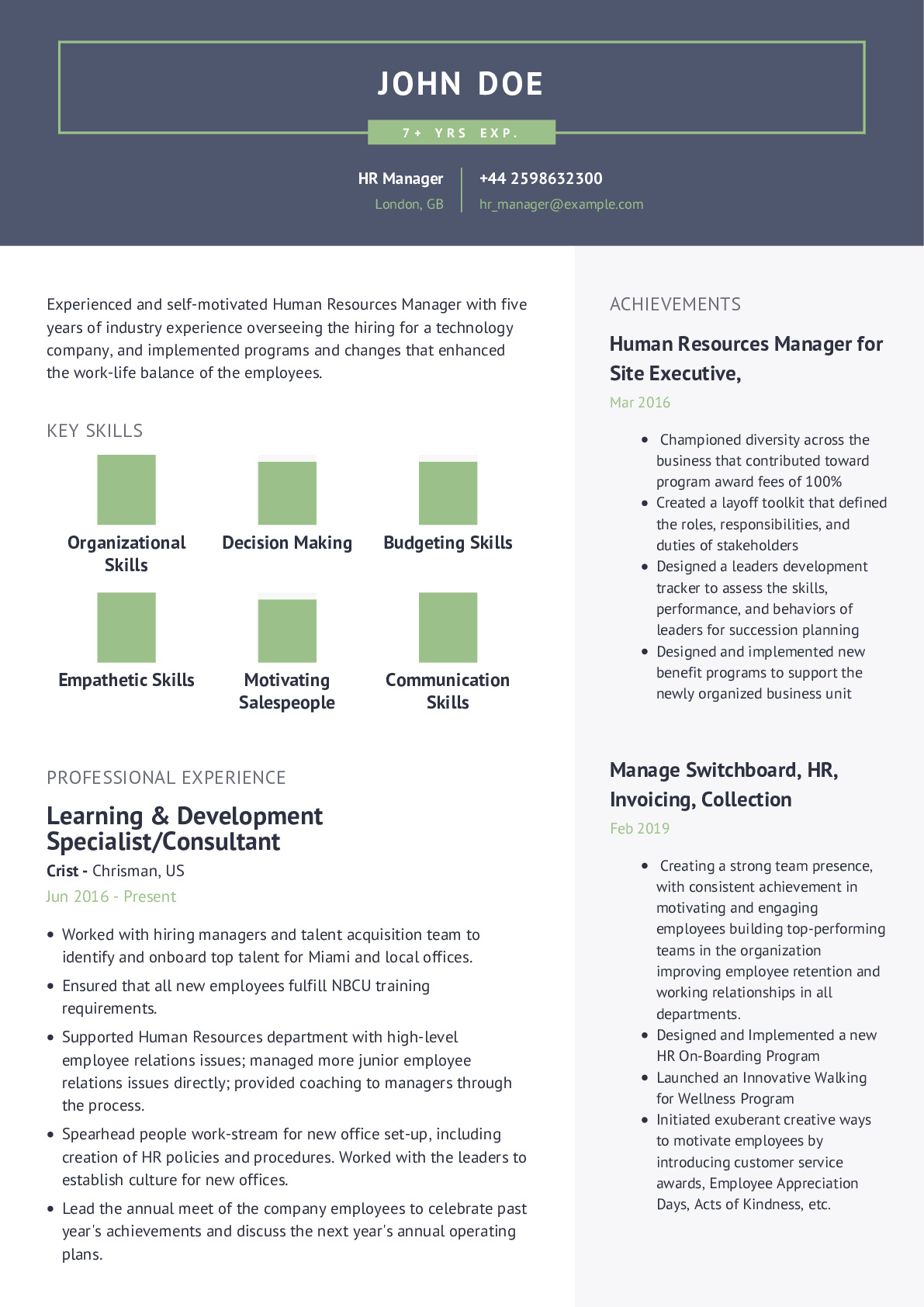 How to write a great HR Manager resume
As an HR Manager, there are certain things that recruiters look for in your resume. Highlighting the relevant sections in your resume helps you get noticed and increases your chances of getting hired.
Here are a few tips for writing an amazing resume:
Write an impressive Career Summary
The Career Summary is the first thing that your recruiter sees in your resume. Therefore, writing a summary that grabs the attention of the recruiters and keeps them engaged is necessary. Write about the challenges that you have faced in your career as an HR Manager.
Highlight the problems that you had faced and how you solved it. This helps the recruiter in understanding your career, your experience, and your thinking pattern. Make sure that you use the right keywords in your summary to attract the recruiter. Also, keep your Career Summary between 300 and 400 words.
Summary
Experienced and self-motivated Human Resources Manager with five years of industry experience overseeing the hiring for a technology company, and implemented programs and changes that enhanced the work-life balance of the employees.
Mention your professional experience and achievements
If you have the experience of working as an HR Manager or any related position, do not forget to mention that in your HR Manager resume.
Highlight the challenges and problems which you had faced in your previous organization. Describe how you solved the issues faced at your previous workplace.
If you have worked in more than one company in the past, mention those in the descending order. Start from your most recent work experience, followed by your previous ones.
Professional Experience
Learning & Development Specialist/Consultant
Worked with hiring managers and talent acquisition team to identify and onboard top talent for Miami and local offices.
Ensured that all new employees fulfill NBCU training requirements.
Supported Human Resources department with high-level employee relations issues; managed more junior employee relations issues directly; provided coaching to managers through the process.
Spearhead people work-stream for new office set-up, including creation of HR policies and procedures. Worked with the leaders to establish culture for new offices.
Lead the annual meet of the company employees to celebrate past year's achievements and discuss the next year's annual operating plans.
Padberg
Mar, 2013 – Jan, 2016
Program Coordinator
Handle and spearheaded events i.e. health fairs, volunteering opportunities, career development workshops, seminars, etc.
Supported in rolling-out corporate initiatives locally; tailored material as and when required.
Offered guidance and counseling to employees concerning work-related issues and worked to resolve issues in a proactive and positive manner.
Worked on the annual appraisal process of the employees while ensuring that hiring managers got the opportunity to work closely with their subordinates to develop the relevant skills.
Additionally, if you have received any awards or recognition for your work as an HR Manager, do not forget to mention that in your resume for HR Manager.
Achievements
Mar, 2016
Human Resources Manager for Site Executive,
Championed diversity across the business that contributed toward program award fees of 100%
Created a layoff toolkit that defined the roles, responsibilities, and duties of stakeholders
Designed a leaders development tracker to assess the skills, performance, and behaviors of leaders for succession planning
Designed and implemented new benefit programs to support the newly organized business unit
Feb, 2019
Manage Switchboard, HR, Invoicing, Collection
Creating a strong team presence, with consistent achievement in motivating and engaging employees building top-performing teams in the organization improving employee retention and working relationships in all departments.
Designed and Implemented a new HR On-Boarding Program
Launched an Innovative Walking for Wellness Program
Initiated exuberant creative ways to motivate employees by introducing customer service awards, Employee Appreciation Days, Acts of Kindness, etc.
Mentioning your key skills in your resume for HR Manager
As an HR Manager, mention your core skills in your HR Manager resume. You might be the most skilled person in the room, but your recruiter needs to know that too. Therefore, you should highlight all your relevant skills in the right way.
Rate your expertise in all your skills using the slider option in our smart resume builder. While adding your skills, remember that you should not add more than six skills in your resume for HR Manager.
Following are some of the key skills that you should highlight in your resume for HR Manager:
1] Organizational Skills
2] Decision Making
3] Budgeting Skills
4] Empathetic Skills
5] Related Articles
6] Communication Skills
Keep the job responsibilities clear, to the point and list your jobs in reverse chronology i.e. the most recent first. A good resume rarely goes beyond two pages.
Mention your educational qualifications in your HR Manager resume
The HR Manager plays an important role in the company as they help the company in managing a lot of crucial functions with ease. The minimum educational qualification for an HR Manager is a Bachelor's Degree in HR or any other related field.
Highlight your education in your resume for HR Manager. But, if you are a graduate or above, you should avoid mentioning your 10+2 or high school qualifications.
Education
New York City, US
University of New Hampshire
M.S. Leadership & Mgmt
Sep, 2007 – Sep, 2007
Mumbai, IN
Mumbai University
MBA – HR
Jun, 2004 – Jun, 2004
Highlight your hobbies and other information
Talk about your hobbies and other personal information in your resume. Recruiters want to know what you do/like apart from your professional life.
Interests
Tennis

Gardening

Pool

Table Tennis

Reading

Movies
You can also mention your social media profiles in your resume to help them know more about you. However, make sure that you have kept it clean before submitting those cleanings activities.
How can CraftmyCV help?
Our expert team at CraftmyCV has been analyzing resumes across different industries and hierarchies for years. Till now, we have analyzed over 20,000 resumes and created our smart, attractive, and engaging resume for HR Manager.
USPs of CraftmyCV:
Mobile Resume Templates for HR Manager
With all the resume layouts of CraftmyCV, we offer a Mobile Resume Format as well. This format makes our resume easily readable on all portable screens.
Ready-made, Optimised Content for your perfect resume
CraftmyCV has created thousands of content pieces for creating the perfect resume. As a CraftmyCV Premium User, you can use these content suggestions to create an amazing resume for HR Manager and land in your dream job.
ATS Optimized Resume Formats for HR Manager
Multinational companies and Recruitment Consultants make use of multiple software to go through the resumes every day. Application Tracking Software or ATS helps them in analyzing your resume and shortlist the best resumes in a quicker and efficient way. So, whenever you export a resume in PDF format, we offer you an ATS friendly version of your resume in word format.
Given below is an example of a resume designed for an ATS software: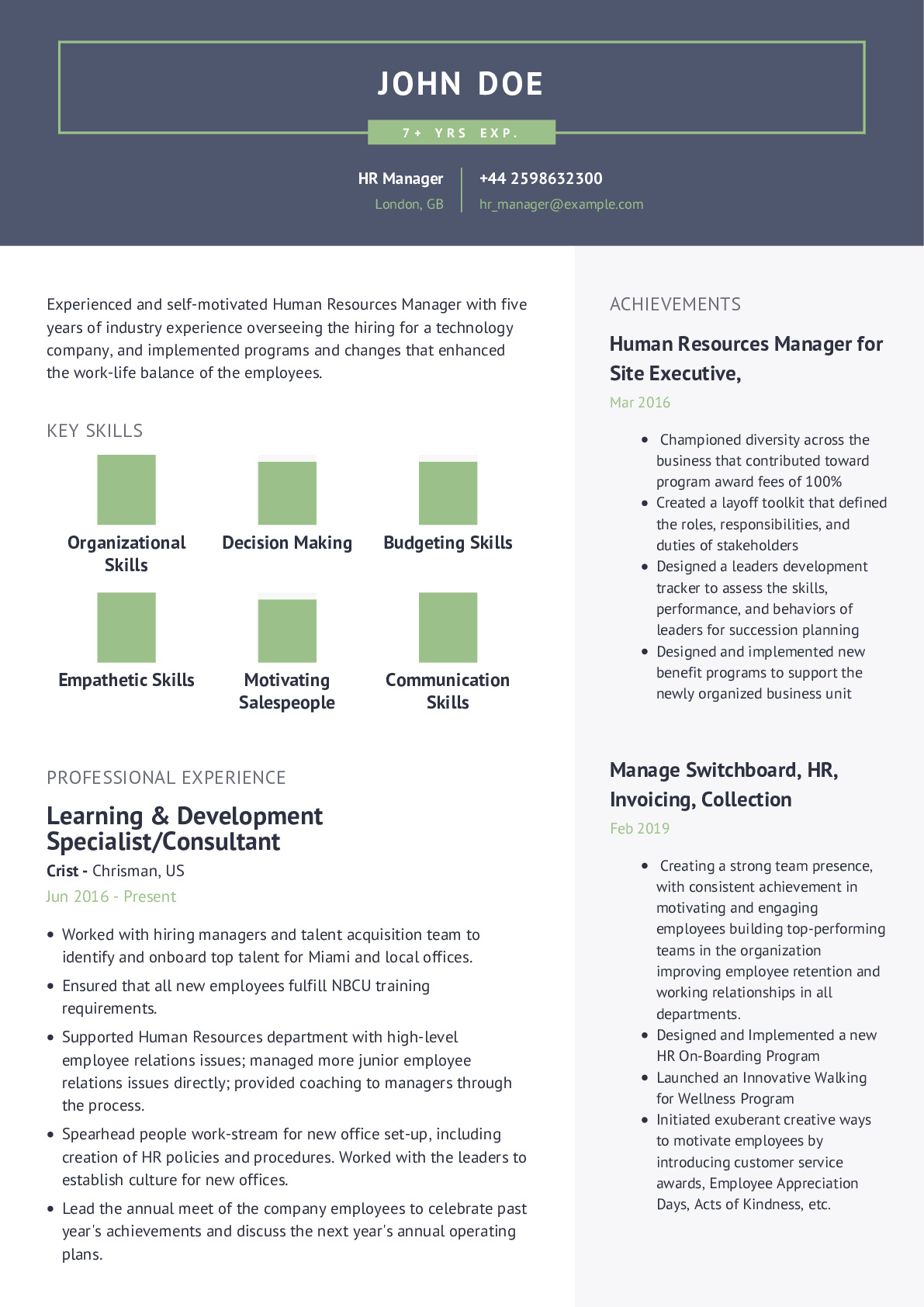 Create an impressive resume and get hired for your dream job today. Click here to get started.
Happy Job Hunting!
Get Noticed. Get Hired.
Craft your own HR Manager resume.
CraftmyCV.com is a quick and easy resume builder for creating stunning resumes in minutes to get you noticed.
1 Resume Template
1 Mobile Resume Template
3 PDF Exports
ATS-Ready Word Document
SEO-Friendly Online Profile