When we say free resume templates, we deliver it absolutely free because having an extremely impressive resume is vital when applying for your dream job.
The essential aspect to keep in mind while creating a resume is being unique and informative at the same time. Your potential employer will have an impactful first impression of you having a look at your resume.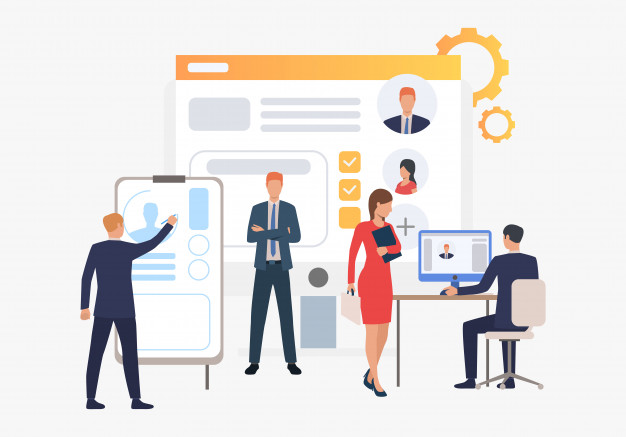 Therefore, your resume format and template should stand out from the rest of the applicants.
Things that you should take care of while creating a resume for your industry
Every industry is different and requires an entirely different set of skills and knowledge. Therefore, presenting your knowledge, skills, and achievements in the right manner is really important. Hiring managers see hundreds of professional resume examples every day.
Create your resume in such a way that you draw the attention of your employer instantly.
Pay attention to the power keywords, clearly defined key skills, crisp professional summary and highlights of your career.
Here are a few tips to help you create your resume that suits your industry:
Information Technology (IT)
Instead of simply mentioning what your skills are, try mentioning how you have utilized your skills. The end result matters the most because the job industry is highly competitive and result-oriented.
Therefore, instead of just reading about what you know, your potential employer would want to see how you have applied your skills and knowledge and what you have accomplished.
While writing your resume, you must always mention the basic personal details (Name, Contact Number, Email ID) and ensure that the Email ID you enter has your name in it.
Along with the experience section, include only those projects which highlight the skills relevant to the company's requirement. This will help your resume to get shortlisted faster on the employers' Application Tracking System (ATS).
Match key skills in your resume with the requirements in the job description to increase your chances of getting shortlisted.
If you mention all the technical skills on your resume, the recruiter may get confused, resulting in your resume rejection. To avoid such a scenario, you should only include the core skills which match the job criteria.
Some of the best professional resume examples related to the tech industry also include the process of highlighting the core skills.
This may grab the recruiter's attention faster and increase your chances of getting shortlisted for the further process.
Sales and Marketing
For these job profiles, metrics are essential as it represents the success of those with prior work experience in the same field.
However, overloading your resume with numbers is not something that will gain a lot of attention to your resume format.
Sales and Marketing candidates must be good with numbers and overall market statistics.
Highlighting the impact which you created in other ways can be a great alternative. Have a look at the following phrases to understand it better:
1. Delivered exponential brand and bottom-line growth using X, Y, Z.
2. Took a struggling business unit to a profitable stage by ___
3. Brought about a significant increase in top-line revenue by ___
4. Increased customer engagement and online following by ___
5. Grew the company's digital presence by ___
Using such a language in your resume can work wonders for you. You should prefer using such descriptive, impactful phrases instead of numbers to showcase your skills and the impact that you've created.
Click here for free professional resume examples and readymade resume content for your industry.
Design and Arts
Creative companies highly value their culture. So, it is essential that you display some personality traits indicating that you understand the employer's culture and environment.
You should be able to show the companies that you're capable of inculcating their values, attitude, and developing the brand identity.
This way, you can create a positive impression on them and your resume can go a long way.
Additionally, the language that you use in your resume while applying to design companies, advertising agencies, or other creative firms shouldn't be very corporate, stiff, or jargonist.
A creative person's resume should reflect creativity and edginess.
If you have a look at some of the best professional resume examples, you will notice that having an impressive portfolio is vital. Hence, you must also include add-ons such as infographics, videos, links of your attainments in your resume.
However, the organizations at first would wish to understand your thought process in getting from point A to point B. One thing which creates a very high positive impact is your ability to take an interesting idea and make it a winning final product/campaign/design.
How can CraftMyCV's free resume templates help you?
You can increase your chances of landing your dream job with our highly customizable resume formats for freshers and experienced professionals.
Click here to see our industry best resume templates.
With the help of advanced technologies and smart AI algorithms, we help you in creating an impactful resume as per your industry requirements.
If you are already working and are planning to switch, you can make use of our online resume builder or refer the professional resume examples with pre-filled resume content for your industry. Start by clicking the banner on the right!
Our resume builder has attractive and impactful resume formats for freshers and experienced professionals. You just have to choose from our free resume templates and enter a few details.
Based on the data that you enter, our system will provide suggestions that can be customized as per your requirement.
You can have a look at our free resume templates here.
Frequently Asked Questions (FAQs):

What is the best resume format?
A resume must be well structured, informative but not too long. We have researched and implemented everything that a resume should include, so don't worry about the format and simply start creating a resume with CraftMyCV.
How long should a resume be?
Your resume should be a one-pager or two-pages long, not more. Resume writing is an art, so pay attention to what you write. We have created ready to use resume content that you can add with one-click.
How often should you update your resume?
We recommend that you customize your resume for every job you apply for because the recruiters look for specific skills and keywords in the resumes they receive. Use our resume builder to customize and save multiple variations of your resume.
How useful is a resume builder?
Resume builder such as ours is extremely useful because our resume templates are professionally approved and layout your career information clearly. Our pre-written resume content will help you highlight your work experience, summary and accomplishments in a professional manner.
Choose from one of our free resume templates and get started with creating an impressive and impactful resume for yourself today!